News and Events archive
Almoner's Spring Fayre
The Almoner's Spring Fayre which was held in Lodge Polkemmet, Whitburn on Saturday 29th April 2017 raised the fine sum of £1072.00
Many thanks from our Provincial Grand Almoner, Bro Kenny McMaster.
Open Day at Grand Lodge, Edinburgh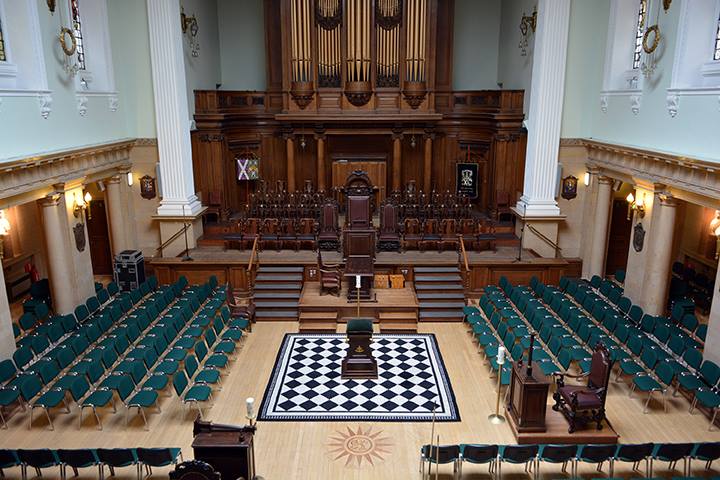 I would remind you that Freemasons' Hall will be open to members on Saturday 13th May 2017. Although many new members are expected to attend it is hoped that those who cannot find time during the normal working week will also take the opportunity to visit Freemasons' Hall. Families of members are also welcome.
Grand Stewards will be on hand at the entrance doors to direct visitors to Volunteer Guides who shall escort small groups of visitors around the building.
On this occasion a Saturday has been selected as it is generally accepted as a 'family' day and Grand Secretary would like to encourage as many members and their families as possible to visit Freemasons' Hall.
Please be aware that there are parking restrictions in the city centre and recently the number of available parking spaces has been much reduced.
Doors will open at 12.00 noon and the building will remain open until 4.00pm (last admissions at 3.30pm).Freemasons' Hall, 96 George Street, Edinburgh, EH2 3DH, will be open on Saturday, 13th May 2017. Tours of the building will be provided. New members are particularly encouraged to visit and see their 'Head Office' although everyone is welcome on that day.
Doors will open at 12.00 noon and last admission will be at 3.30pm
Provincial Golf Outing
The Provincial Grand Lodge of Linlithgowshire has organised a Golf Outing on Sunday 21st May 2017, to Tulliallan Golf Club (9.00am for first tee 9.30am)
The event includes a Roll & Coffee on arrival, one round of golf and a two course meal afterwards.
If you are interested please contact Bro. Stewart G. McMeechan PM or David L Lacey PM for details.
New York Bound
Bro. Norman J. Austin PM has always been known for his travels not only in this country, but also in Ireland and England. Very soon he will going much further when, in May 2017, in his capacity as a Past Master of Lodge St. James, No. 171, Doune he will be part of a deputation from the Provincial Grand Lodge of Perthshire West that will be working a demonstration of a degree in Troy, New York State. Best wishes to all in the deputation – enjoy!
Inside the Freemasons
On 16th February 2017 it was confirmed that Sky1's insight into Freemasonry, 'Inside the Freemasons' will begin broadcasting on Monday 17th April 2017 ( 5 episodes).
According to the website of Lodge Crescamus No. 7776 (E.C.) this exclusive access to Freemasonry is to mark the 300th anniversary of the United Grand Lodge of England and that unprecedented access was granted to the film production team.
Visit crescamus.org.uk for further details.
Elder Stateman's Degree
Proceeds from the Elder Statesmen's Degree, organised by the Provincial Grand Lodge of Linlithgowshire, and that took place on Wednesday 29th March 2017 in Lodge Hope Bridge Castle, Armadale have been donated to Sir James McKay House.  The total amount donated was £1800.00          NOW UP TO £2,200.00
All participants in the Degree were over the age of 70 years.
Young Masons Degree 2017
Bro Ronnie J. Gemmill, D.P.G.M., on behalf of Provincial Grand Lodge, is organising a Young Masons Degree to be held later in the year. If you are interested in participating, or require further details, please contact Bro Ray Newton P.M. (Secretary) no later than end February.
For the purposes of this degree 'Young Masons' will be considered in terms of masonic experience (around 3 years or less) and NOT AGE.
Tour of Rosslyn Chapel – Sat. 18th March 2017 at 11.30am
Provincial Grand Lodge is offering Master Masons a tour of Rosslyn Chapel. Rosslyn Chapel sits six miles south of Edinburgh and was built in the 15th century by Earl William St. Clair of Rosslyn. The Chapel has become one of the most mysterious and controversial buildings in existence. Recent years have seen the controversy reach fever pitch as many, including Freemasons, try to unlock the secrets they feel are hidden within the Chapel walls. See further details on www.rosslynchapel.com
The tour will also provide an ideal opportunity for new members of the Craft to meet Brethren from other Lodges with similar and longer masonic experience outwith the more formal setting of degree meetings as well as being a social gathering for all.
Those attending should make their own way to Lodge Rosslyn St. Clair (situated in the village of Roslin, Mid-Lothian) for an 11.30am start. If there is sufficient interest from within 1232 then transport may be arranged.
Within the Lodge there will be a presentation and virtual tour of the chapel, drawing attention to the items of masonic interest. Thereafter everyone will walk the 600 yards to the Chapel and will then have the opportunity to look around and find the various items mentioned in the virtual tour. Bro Geoff Spence P.M. of Lodge Rosslyn St. Clair will be at hand to answer questions.
After the tour everyone will return to the Lodge where lunch will be provided.
The cost is £9 (£7 for those over 60 years of age)
Parking is free outside the Lodge and outside the Chapel
Dress Code – appropriate for the environment i.e. dress suit and tie (no regalia)
THE TOUR ON 11th MARCH WAS A GREAT SUCCESS – IF YOU ARE INTERESTED IN ATTENDING THE 2nd TOUR ON 18th MARCH, CONTACT Bro. Norman Austin NOW.