News and Events
Distinguished Members Award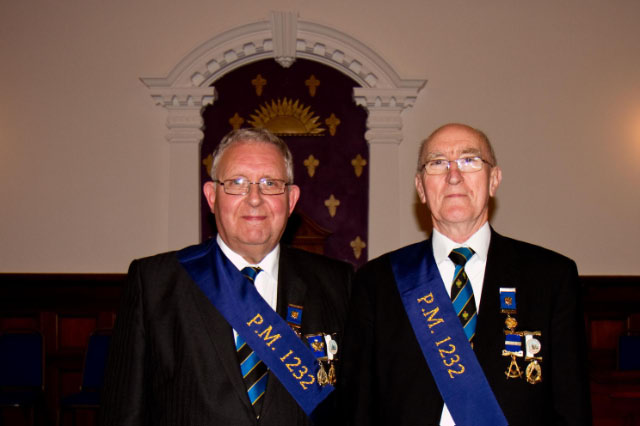 On the 5th September 2017, Bro. Ray Newton, Past Master and Bro. Bill Ewen, Past Master were presented with Distinguished Service Diplomas and Medals. The presentation was made by Bro. Martin L. Nelson, Right Worshipful Master and Bro. Jim Ellis, Right Worshipful Provincial Grand Master.
Seagull Trust Cruises Ratho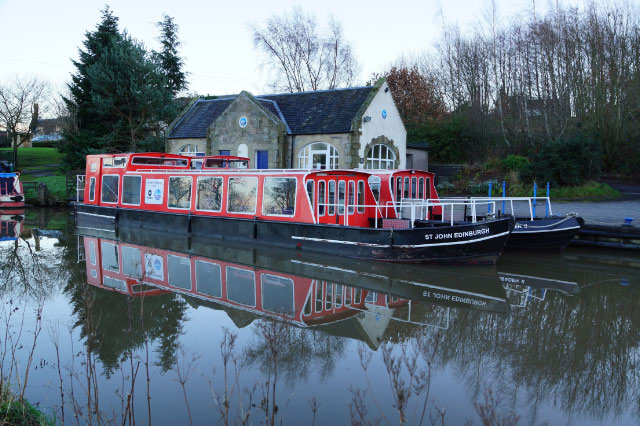 In the minute of a 2017 Almoners Meeting Bro. Kenny McMaster (Provincial Grand Almoner) advised that The Seagull Trust, Ratho Branch, was extremely proud of it's association with Freemasons in Linlithgowshire and that The Trust was very keen for us to use their services. By doing so The Trust felt that it would be able to demonstrate its thanks for the support that it receives.
Bro. Kenny McMaster has asked the Almoners of the Province to consider any schools or care homes that might want to participate in a barge trip at Ratho. If you would like to pursue this offer further then please contact your Lodge Almoner as soon as possible.
The barge trips are free, 7 days a week, however must be booked in advance with The Trust Secretary (0131 335 3318). Each boat carries a maximum of 12 passengers. The ethos is they are for people of all ages with special needs. Tea and coffee are provided free of charge.
The Ratho Branch is the original Branch of The Seagull Trust and it was here that the first cruise for disabled people took place in 1979.
Bro. Hugh C. Paterson P.M.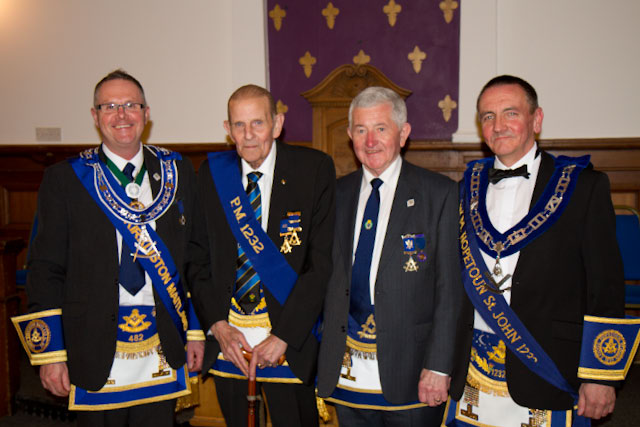 Bro. Hugh Coulter Paterson, P.M., on Tuesday 7th March 2017 was presented with a 50 Year Jewel and Jubilee Certificate. Hugh's proposer, Bro. Jim Bennett, a P.M. of Kirkliston Maitland, No. 482 assisted with the presentation. Our picture shows Bro. Gordon Yeoman, R.W.M. of Hugh's Mother Lodge, Kirkliston Maitland, No. 482, Bro. Hugh Paterson, P.M., No. 1232,  Bro. Jim Bennett, P.M. No. 482 and Bro. Martin L. Nelson, R.W.M., No. 1232.
Hugh was initiated in February 1966 and affiliated to Lodge Hopetoun St. John, in April 2000. Thereafter he became R.W.M. in 2012.
In the second half of 2017 Hugh's health took a downward turn and sadly he passed away in October of that year. He was a good man and mason and will be very much missed by all who knew him.
Bro. Joe Lavery (Organist)
In April 2017, we sadly had to say goodbye to Joe, but don't panic this was only in his capacity as Organist.  Joe finally decided that now was the appropriate time for him to retire. When we relocated to Linlithgow in January 2006 Joe stepped in to help us out as Organist at our Installation Meeting and he hasn't missed a meeting since. We are most grateful for all that he has done for 1232 and it goes without saying that the presence of an Organist at any meeting is a bonus and that his music will be missed by us all. However, to Joe, who is an Honorary Member of 1232, we extend to you a very warm welcome to join us whenever you can and we wish you good luck and good health in your retirement.
Bro. Robert Harvey
Congratulations to Bro. Robert Harvey (Rab) who on 8th February 2017 was made an Honorary Member of Lodge Ancient Brazen, Linlithgow, No. 17  On that occasion Bro. Eaon Poole R.W.M. of No. 17 expressed his thanks to Bro. Harvey for the support that he had given to No.17.
A Message from our R.W.M.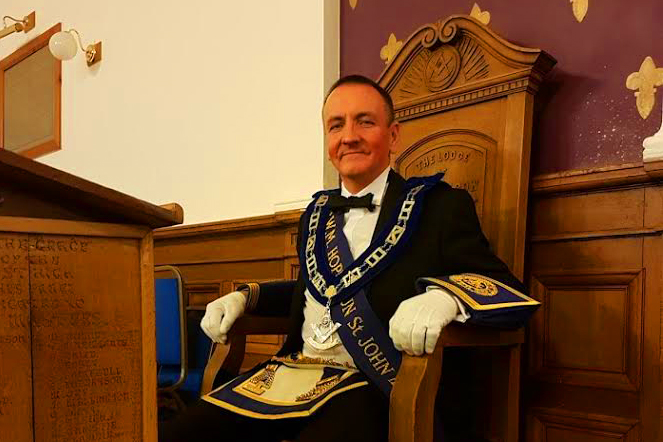 31st January, 2018
Welcome, and thank you for visiting the 1232 web site.
On behalf of our Past Masters, Office-Bearers and Brethren I would like to take this opportunity to thank everyone who attended our Installation Meeting in January 2018, and made it, for a second time, a very memorable occasion for me.
It's been one year since I was first installed in the Chair of King Solomon. It went so fast and ponder where did that year go. I'm proud and privileged to be in the chair and would now like to record my thanks to our members for allowing me the honour of becoming Right Worshipful Master for a second year.
I also extend a special thank you to my Installing Masters namely Bro. Norman J Austin, Bro. Stewart G McMeechan, both Past Masters of 1232, and Bro. Gary Clubb  P.M. of Lodge Camelon No. 1456.  Bro. Stewart G. McMeechan, was also my proposer when I joined the craft back in 2006. I am sure that all who were in attendance will agree that they carried out their respective duties in an admirable manner.
To our Office-Bearers I take this opportunity to congratulate you and wish you all well in your new posts and to thank you for the support that you have given me and I look forward to working with you all throughout the coming year. In addition, a big thank you to Bill & Ray, not the 'Tartan Lads', but our Admin. Team, their support and guidance assisted me greatly in my first year as Right Worshipful Master and I look forward to working them in year two.
Many thanks to our Bro. Norman J. Austin I.P.M. for all the assistance and guidance he has given, not only to me but also to the other office-bearers. In the coming year I hope that I can meet the standards achieved by the Past Masters of the Lodge.
To our visitors I thank you all for the support that you have given to 1232 and assure you that on your return a warm welcome awaits you.
Finally, to those members of 1232 who, for whatever reason, in recent times have been unable to attend our Regular Meetings, I would be delighted to welcome you back amongst us and to enjoy your company and support.
Bro. Martin L. Nelson, R.W.M.
Bro. George T. Ryce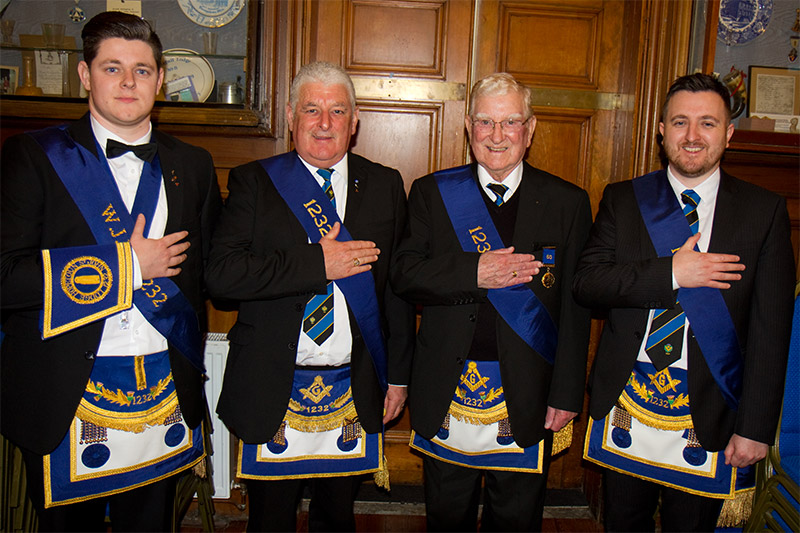 On Tuesday 6th December 2016, Bro. George T. Ryce was presented with a 50 Year Jubilee Certificate and Medal in recognition of his services to Freemasonry. The presentation was made by Bro. David L. Lacey I.P.M., assisted by Geordie's two grandsons, Bro. Scott G. Ryce W.J.W. and Bro. Darren Inglis M.M.
Whilst Bro. Lacey covered key dates in Geordie's masonic career his grandson Scott gave a very enlightening insight into Geordie's life covering his home life, his working career including his time serving in Her Majesty's Forces and of course his devotion to music particularly the bagpipes and also to his beloved canaries.
A well deserved honour for a lovely guy.
Bro John A. Sandilands – Tyler & Caretaker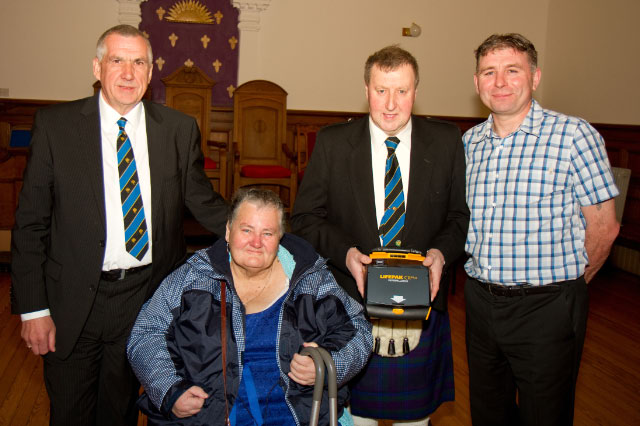 As you may be aware, one morning back in October 2016, John suffered a heart attack just after arriving at the Lodge in order to set things up for our meeting later that evening.
Thankfully due to the prompt attendance of paramedics, and also the care provided by hospital staff, John has made a good and steady recovery.
In appreciation of all the care and attention that John received the Sandilands family has very generously donated to our Lodge a defibrillator which is now located in the Masonic Hall in Linlithgow. On the 28th March 2017 the Sandilands family was invited to attend a reception in the hall at which representatives of our Lodge and also Ancient Brazen, No. 17 were able to thank the family personally for their donation.
Bro. Colin M. Smith gave a brief talk on how the defibrillator works.
Our picture shows John and his wife Marion accompanied by Norrie Austin P.M. and David Paterson the R.W. M. of No. 17
Latest Events
Childrens Halloween Party
A most enjoyable party, organised by the Almoners of the Province, took place in Lodge Lord Bruce, No. 1601, Blackburn, on Saturday 28th October 2017.
The 2018 party has been scheduled for Saturday 27th October 2018. Full details will follow nearer the time.
Almoners Concert
The 2017 Almoner's Concert was held within the premises of Lodge Polkemmet, No. 927, Whitburn.
The 2018 Concert will be held on the 17th October 2018. Full details to follow nearer the time.
Reigning Masters Degree
A very successful  Reigning Masters Degree was held on Tuesday 31st October 2017 at 7.00pm within the premises of Lodge Ancient Brazen, No. 17, Linlithgow. The RWM of Lodge Lord Bruce, No. 1601, occupying the chair.
Details of the 2018 Reigning Masters Degree will be issued as soon as they are made available.
Recent Members Degree
The 2018 'Recent Members Degree' (previously referred to as the Young Members Degree) will be held  on Friday 30th March 2018 within the new premises of Lodge Buchan St. John, No. 636, Broxburn  i.e.Broxburn Bowling Club, Station Road, Broxburn.
Our very own Bro. Colin M. Smith will again be participating, this time as W.J.W. and he will be delivering the Final Charge.
Next Meeting
The next Regular Meeting of the Lodge will be held on Tuesday 6th February 2018 when our R.W.M. Bro. Martin L. Nelson and his office-bearers will be working a Third Degree.
As always visitors are most welcome.
Masters Visits
Bro. Martin L. Nelson, R.W.M. is currently reviewing his syllabus for the session ending April 2018. Full details will be published as soon as they are received and an amended syllabus will be issued to members.
100 Year Anniversary
In the year 2020 Lodge Hopetoun St. John, No. 1232 will celebrate it's 100 Year Anniversary. A Centenary Book in hardback format is being prepared and should anyone have any appropriate and interesting articles we ask that you contact our Secretary Bro. Ray Newton P.M. at your earliest convenience. We are also looking for old photographs with a 1232 connection including any taken at social events. All items will be returned. Watch this space for more details.
Charity Sponsored Walk
Our 2017 Sponsored Walk and Bowling Competion raised a total of £1075.25
Details of the 2018 event will be available nearer the time.
Charity Bowling Competition
Our Annual Charity Bowling Competition is normally held around June at Linlithgow Bowling Club.
Details of the 2018 event will be made available nearer the time.
This 'fun' competition is open to members and guests both male and female.
Installation Meeting
Our Annual Installation Meeting and Festival of St. John will be held on Saturday 19th January 2019 at 2pm.
As always visitors are most welcome.